Toomer's Coffee is extremely proud when we share that we use the unique and superior infrared roasting technology exclusively in production of our craft roasted coffees Here's why.
Infrared coffee roasters are so phenomenally superior to other conventional coffee roasting methods there was never any question what machine we would use.
This puts Toomer's Coffee Roasters in a unique class of specialty custom coffee roasters as it is estimated that only 2%* of all coffee roasted uses this higher-standard processing method.
BACKGROUND: A comparison of more traditional methods

Many people today are enjoying Toomer's Coffee without stomach sensitivity due to our low (ph) acid coffee (not to be confused with the "acidity" flavor characteristic).
One of our regular on-line buyers today, a heart surgeon from Texas commented during a visit to Auburn for a football game (War Eagle! by the way baby…), that ours was the only coffee that didn't upset his stomach. Let me add, that's not an unusual comment we hear either.
Here's why…
During the typical commercial roasting process natural acids are produced that can produce heartburn sensations and upset stomach to some with sensitive stomachs.  However this need not be so.

Typical commercial roasters run the coffee along a conveyor belt system and blow hot air from a gas flame manifold beneath them.  Kind of like some hamburger chains cook their hamburgers.  Another is to simply tumble them in the gas flame heated hot air like a commercial dryer used at the cleaners.
Both of these types of roasters tend to "burn" the bean causing an unevenness in the roasting process that does not fully remove these acid producing compounds.
THE DIFFERENCE IN TOOMER'S COFFEE
The vast majority of coffees available today, even most specialty coffees are roasted in the manner described above.
As I said earlier, our less common (rare?) infrared roasting technique is only used by an exclusive class of roasters,  approximately 2% of all specialty coffees produced.
Here are a few other remarkable improvements our infrared roaster produces in your daily cup:
Sandy in front of his favorite roaster!

The beans increase in temperature quicker than those roasted by hot air. Studies have shown that compared to conventional roasting, infrared roasting showed less increase in radicals on the bean during and after the roasting process.

Highly noticeable was the consistent formation of brown colored compounds showing the bean was uniformly heated and never burned.
The infrared roasted beans had a quick increase in the internal temperature and thus suffer from less damage on the surface.
The study also revealed a uniform and quick decrease in moisture and showed the beans undergo uniform heating even at the core.
Even more noteworthy were the changes in the contents of citric acid, malic acid and formic acid that are naturally found in the bean. When monitored and compared to conventional roasting, infrared roasted coffee beans showed changes from an earlier stage. As the roasting proceeded, the infrared roasted coffee beans contained these acids in a smaller amount!
Not surprisingly, the content of aroma compounds were found to be 25% more than that of conventional roasting, and when tested was found to carry the same standard to the cup. The taste from the extract of hot air roasted coffee beans was similar to most conventional roastings, while the extract of the infrared roasted coffee beans was different from them (i.e., weaker acidity) leading to a better coffee without a bitter taste.
THE BOTTOM LINE: WHY OUR COFFEE IS BETTER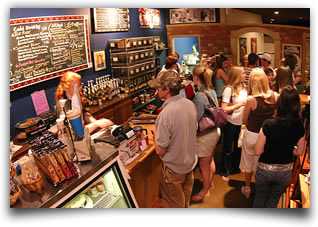 Infrared roasting is the superior method to roast coffee.  End of discussion.
Our Diedrich Infrared roaster heats the coffee faster, more uniformly and at relatively lower temperature than conventional hot air/flame roasters.
The result is a low-acid, pleasant cup that is consistent bag to bag year after year.
Try us!  You'll taste the difference right away!
Sandy Toomer
Roast Master

---
Sources: Ineedcoffee.com*, Diedrich Manufacturing, & [my] 14 years of roasting experience!