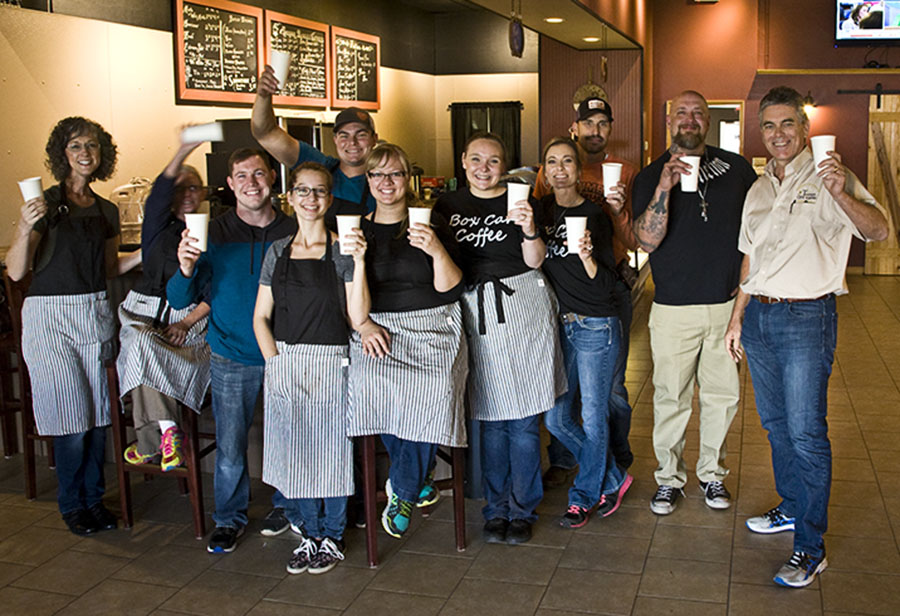 Coffee Shop Consulting, Training and Mentoring
The American Dream is alive and well.  This is what you hear: Today like no other time in history anyone like you or me, with a good idea, tenacity and a little luck can make it. There is a caveat though in that statement. Luck.
How do you define luck?
It has been said and we agree:
Good luck is when opportunity meets preparation, while bad luck is when lack of preparation meets reality. Eliyahu Goldratt
We've all heard the "It isn't that people plan to fail they just fail to plan" mantra. Well that is too undemanding. We have seen so many poor business plans it would make your eyes water. You can plan, plan, plan, but if you are working with bad information, your plan will be a bad plan. You will fail or fall grossly short of your expectations.
So good preparation is the key? Yes to an extent and more so than merely planning. BUt you have to go further, much further. Good preparation is the key or put more succinctly…
You play like you practice
First the Backstory: How we got into the coffee business
We returned to the US after living overseas for nearly a decade, That was in 2002.
So much had changed. The biggest change we encountered was the sticker shock at the cost of living in the US. Just a few years before moving overseas we sold our home in a nice swim & tennis suburban Atlanta. Our neighbors were successful people by an large. To help put this perspective, we had sold our home in 1990 for $84,000. The most expensive homes in our Atlanta bedroom community were just over $100,000. We had as neighbors Delta Airline pilots, doctors, successful business people of all sorts. My point is this was a nice area of town and our house sold for $84,000 in 1990.
We returned to the US in 2002 and were shocked to see a 3 bedroom, 2 bath, 2 car garage home in an average neighborhood selling for over $200,000. Go 4 miles away by Auburn University and you couldn't touch a 3/2/2 fixer-upper for much less than $300,000.
We quickly realized we needed a second income
Long story short, we literally walked into an opportunity to start our own coffee shop. This circumstance some may call luck was actually a serendipitous event.
We already knew a lot about coffee having lived in Costa Rica and Ecuador for nearly a decade. I, working as a commercial pilot (actually a bush pilot), flew the annual harvest of coffee crops out of the mountainous edges of the Amazon Rainforest for various indigenous farmer groups. For our home brew, we bought only the best Colombian coffee in Quito.
The cafés in San José and Quito were nonpareil. The espressos were deeply smooth, Americanos rich. We came to back to the US knowing what truly well prepared members of the coffee family should taste like.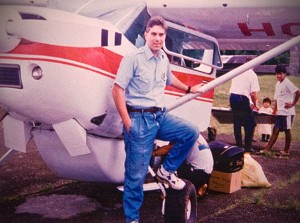 Most of what we found in the corporate coffee climate here in the US were bitter bracers about as far from what our palettes had grown accustomed to overseas as sardines are from swordfish. There seemed to be the belief that just putting up a sign saying "Coffee Shop", pulling shots and steaming milk conveyed an understanding and expertise of coffee that was more often than not just a mirage.
Then on one of my new career business trips my wife was able to accompany me on, we ran into an old friend who had gotten into coffee circles as an entrepreneur.  But unlike the other US based coffee shops I had visited from east to west, his coffee was actually good. Actually VERY GOOD!
I remember the first cup I enjoyed in his shop was a Monsooned Malabar drip brew. My wife tried a medium latté and was blown away by the smoky smoothness. He was also a roaster.
As we talked the topic came up about Trish needing to look for a second income job and our friend almost instantly asked, "Are there any coffee shop in Auburn?"
Balancing Act: Keeping startup costs low but build-out quality high
He then told us he had the fortune to find out about a coffee shop which had decided to fold. He had purchased the contents of the shop at a bargain and offered it to us to help us start-up our first coffee shop.
Barely open six months the coffee shop had purchased everything new under lease:
Brand new Astoria 2-group SAE espresso machine and water softener,
2 Bunn airpot brewers with hot water tap,
Ice machine,
Three compartment sink,
An undercounter True refrigerator,
Mazzer Espresso Grinder,
Bunn G3 Grinder,
Matching table sets: 4 commercial 2-top tables/chairs and 2 commercial 4-top tables and chairs and 2 pub tables and chairs
Basically everything we needed to open with only a few other items needed. All for…$6500!
That's serendipity.
I had already done the math and realized we had come into about $25,000-30,000 worth of premium grade coffee shop equipment for about 20¢ on the dollar. Remember that. Very important.
As a businessman I knew one of the keys to succeeding in business was keeping start-up costs low. To that end we had been successfully blessed.
Next we had to find a location
We looked at building after building. Remember, like you, we really knew nothing about the coffee shop business.  Yes we knew what we liked and I had been National Marketing Director for a major Atlanta business (prior to my commercial aviation life), but really nothing about running a coffee shop.  But I did know one thing…keep costs low.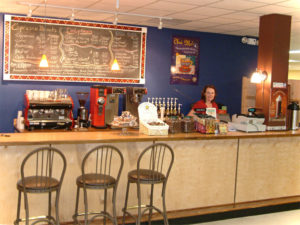 Then one day Trish walked into an antique mall that wanted to have some type of food and beverage experience for their patrons. Trish said, "How about a coffee shop?" After a little negotiating they agreed to let us set up what is called to day a pop-up coffee shop inside their antique mall and pay only 10% of our gross sales each month as rent.  That included utilities and internet.
This now gave us easy breathing room to learn and for the next 9 months we learned all we could.
Within one year however we realized we needed to be over by Auburn University to leverage the growing interest and coming coffee shop craze.
So we found a sub-lease situation that had come up due to the current leasees inability to make a go of it. But since they had a lease they were being held to, we realized we had leverage and offered a reduced amount for the balance of the term (about 3½ years on 5 year lease). They agreed and we moved our little pop-up shop over by Auburn University.
Here's where it gets really interesting
We opened our doors in Auburn in August of 2005. Was it a good move? Well yes. Our sales in the first 3 months in the new location were above the first entire year in our pop-up location. But overhead was higher, we now had about 10 employees, paying all the utilities, internet and so on.
In 2006 we added the Diedrich IR Roaster and the rest is history. Every year our revenue increased. Every year. In 2013 when we sold the retail shop to focus on wholesale, roasting and now consulting, we walked away with a profitable sale plus a significant 7 figure revenue total for about 10 years.
However during all of those years, no less that 10 other coffee shops opened in Auburn…and all of them except one shuttered within 24 months.
So what was the difference? Why were we succeeding? There were many we realized. We visited each of those shops at least once, tried their coffees, offered to be their roaster, even sit down and compare notes and see how we might work together.
The most common issues we found were pretty basic:
Poor to middling coffee knowledge
They served sub par coffee and
Didn't understand how to prepare basic drinks properly.
Interestingly many of the shops were laid out nicely, great decor, granite countertops and so on.
Do you remember my observation after moving back to the US earlier in this article. Well, that's what was happening and the reasonably sophisticated paletes of the new crew of coffee drinkers wasn't buying it either. What we found was that they all bought the cheapest coffee they could find essentially.  On the extreme end of the scale, we knew for a fact one shop was buying their coffee at Sam's Club in bulk (light and dark roasts).
So here's what we are offering to you
We began offering our consulting to people wanting to start up coffee shop about 18 months ago not sure if there was any real interest.
During that time we have visited across the US with a dozen groups and individuals from Los Angeles to Salt Lake to Washington DC, to central Florida. From that experience we have developed some incredible friendships and have helped to birth several new shops which are going strong and yes…using Toomer's Coffee exclusively.
We have a system that works. It worked for us and that process has been multiplied many times over. We have even written a manual for our consulting clients plus great pricing on great craft roasted coffees.
Additionally we will be rolling out our Premium Services Package in late Spring that will include access to lots of How-To video library, on-going articles and special pricing for new micro-lots from or Direct Trade relationships.
Do you already own a coffee shop and just a third person to look over your shoulder and offer help?  We can do that too!
Remember this: It's all about GOOD preparation. That goes beyond planning. Way beyond. Also remember You Play Like You Practice.
We would love to be your mentors and share our successful experience with you.  If you succeed we succeed.