Founders of Auburn's iconic brand, Toomer's Coffee Shop and now Toomer's Coffee Roasters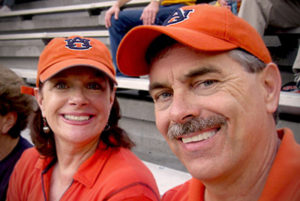 Visitors to Toomer's Coffee Company™ in Auburn are often amused to find out the founders (us) name really is Toomer.  However let me clear the air: we are "kissin-cousins" only to the Auburn Toomers.
However, my great-great-great Grandfather, Benjamin Toomer and two of his brothers, arrived as founding fathers of another famous town, Hilton Head, SC in the 1700's.  I know all of this because my father, Fred Toomer,  helped write a book on the Toomer family history.
Now, about Sandy & Trish Toomer
Trish and Sandy Toomer have been happily married for 36 years and have two grown children, Harrison (30) and Sarah (27).  Sandy is a native of Vestavia Hills, Alabama and Trish is from Hurricane, West Virginia.
From 1990-93 we were in training at Moody Aviation (a part of Moody Bible Institute) and after graduation, joined Mission Aviation Fellowship in 1993 and served as missionaries to the South American country of Ecuador.

Sandy was a missionary pilot with MAF and flew [as a commercial pilot] nearly 3,000 hours serving missionaries and indigenous tribes of the Amazon rainforest while Trish provided hospitality for visitors to the Shell Ecuador base.  In that role as Hospitality Coordinator for MAF's base in Shell, she provided a home away from home for hundreds of visitors and workers from churches worldwide each year and was the link and "shopper" for missionaries living in the jungle.  Harrison and Sarah attended Nate Saint Memorial School in Shell.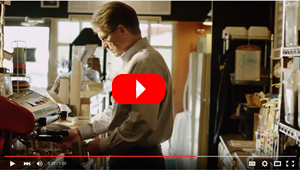 Since that time, in addition to Trish & Sandy's joint venture, Toomer's Coffee Company™, Sandy also owns and operates a successful web development company, Flying Tigers Media.
In 2014 Sandy was asked to run for the Alabama State Legislature. It was a relatively close race against a 16 year incumbent and Speaker of the Alabama House however it was not his year to shine in politics. However the word is he will be back seeing politics as just another way to continue serving the people of Auburn and Alabama.
Today, 2017
We first opened Toomer's Coffee Company™ in downtown Opelika, a short hop from Auburn, in 2004.
However, since so many of our regular coffee-bean-buying customers were from Auburn, they kept after us to move the shop over to Auburn.
So, in August of 2005 we opened our doors in the University Village shopping center on South College Avenue, located right behind Loco's. Since that time we have sold our retail shop interests
The Future
As of July 2013 we leave the retail side of Toomer's Coffee Roasters to new owners to focus our entire efforts on building and growing our wholesale business regionally and nationally which includes BOTH Toomer's Coffee Roasters™ and Coffee 4 Missions™.