"We opened our Café 246 coffee shop last year and wanted a high quality coffee at a reasonable price but also a coffee company with a higher purpose and ideals than simply us selling coffee. What a tall order!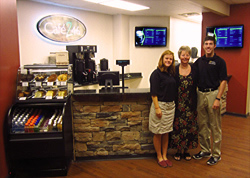 We found everything we were looking for and more in Coffee 4 Missions and Toomer's Coffee Roasters.
It is outstanding coffee; our people love it and purchase bags to enjoy at home. The company/people are of the highest caliber, honest, and dependable; they will do whatever it takes to be sure we have what we need when we need it.
What I appreciate most is the help they gave us prior to opening our coffee service – they helped with design and layout, equipment procurement, lots of encouragement, training of our staff, and were on-site the day we opened!
You cannot go wrong purchasing coffee from this outstanding company- you will receive great coffee at a reasonable price and have a good feeling knowing you are helping to support missions… one cup at a time.
Mary Lou Herald
Food Service Director 
Whitesburg Baptist Church
Huntsville, AL
www.WhitesburgBaptist.org
(Congregation size 1500+)