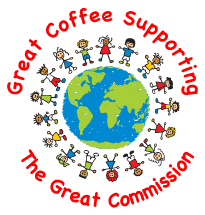 Our church coffee and short term mission trip fundraisers are without equal. We have the church fundraiser for several reasons.
First, most fundraisers are donation raisers with generally sub-standard products given as recognition of the financial gift. Not so with our church fundraisers.
Our church coffee fundraisers recognize and address two important, key, elements regarding quality of products:
We provide you with an affordable, direct trade, artisan crafted Arabica coffee which your clients will either buy more than one bag or be repeat customers. Our coffees have been recognized in magazines such as Southern Living.
We provide several options to our fundraisers (see graphic below).

You can sell our fabulous Go Roast directly in 8 ounce bags
Offer a link on your website and earn affiliate commissions
We can set up an on-line BRANDER e-commerce store for you or
We can help you set up a real-life coffee shop.
So contact us for your next church coffee fundraiser through our Coffee 4 Missions brand and website. Here is a graphic which outlines our church coffee fundraising program.