One of the most popular search phrases we see in the Google Analytics stats for our site relates to wholesale pricing for coffee shops, restaurants and businesses who want to offer our higher end, custom roasted coffees.  So I thought I'd take a moment and address this.
First by way of a story let me paint a picture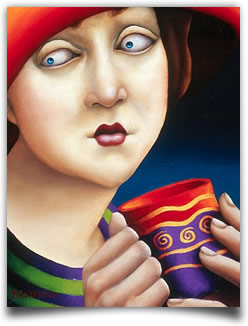 This is a true story of a coffee shop that opened a year or so back.  They were not too far away, but far enough that neither of us were much competition to each other.  A month or so after they opened several of our regular clients (college professors, students, etc) said we should make a sales call and see if they could be persuaded to purchase our coffee wholesale.  So we did.
The gentleman was nice enough, and said, "Well if you can compete on wholesale pricing with XXX company we'd consider it."
Obviously my next question was, "Could you give me some idea of where we need to be?"
I couldn't believe it.  His shipped price (and he got out the invoice) was cheaper than what I pay for green beans.
Now my next statement may sound very subjective, but we bought a cup to try and it wasn't all that great [and I'm being kind].
Bottom line, he never got any traction because of the coffee quality issue (despite free internet, being on a main student walkway to the local university campus, and having great hours).  People told us they just didn't like the coffee and quit going.  They were out of business within 6 months.
The day when you can simply open a coffee shop and draw a crowd are gone.  People today have been exposed to some great coffees and generally know when they are drinking bad coffee and they won't pay for it.
That's tough.  But we see it a lot.  Read on…
There was another shop we called on in another city and the owner said he was just interested in price. Going further he went on to explain the he didn't even drink coffee or like it!  I kid you not.  That's what he said.
They're out of business also I might add.
You see wholesale pricing is relative: You wanna Maserati or you wanna Yugo?

I have a lot of options as a roaster when it comes to the green beans I buy to roast.  I get calls and emails weekly from importers and specialty coffee businesses pitching their coffees.  We usually ask for samples and then test roast them.  Sometimes the coffee is good, occasionally great but all too often, average.
Next I check the pricing.  That's where the rubber hits the road.
With recent climatic events the coffee world has been turned upside down with astronomical price increases of 40-70% for green beans.  But even taking that into consideration the numbers quite often are crazy.
Expensive and Better are not always the same

What we have found is that just because someone believes their coffee is worth $x, my palette may not agree.  However in fairness, sometimes their coffees are priced as they are for other reasons out of their control:
The quantities they purchase in
Shipping costs
Import/export costs
Origin processing costs
That said, we have a standard we look for in our coffees and it's very high.  We buy only the top grade beans a particular country exports.  We then find the best source for that grade in each country.  We currently work with 2-3 importers who are meeting our needs well.
We know we are competitive
For the quality we sell we know we are VERY competitive.  That's it. We sell a lot of our custom roasted coffee through fund-raisers for organizations and know that people like it due to the repeat sales we get from their clients quite often.
But when it comes to price, it is what it is.  We start with a high quality raw product and process it in state of the art roasting equipment using our own proven, peerless roasting profiles.  The result is a range of coffees that developed a brand recognition in our area.  That translates into thousands of pounds of coffee sold and thousands of satisfied customers that return to our shop day after day, week after week, year after year.
In conclusion…Quality Counts Today

So if you're looking to develop a coffee shop business that sustains itself from providing a product that generates repeat business based on it's quality we are very likely  the source you should consider.
However if you only care about price and you are comparing apples to apples we're very competitive there also.  Remember we use an infrared roaster, not a more typical flame based commercial roaster. (Read more on why our coffee is better because of this difference here)
Finally remember, wholesale pricing is also relative to purchased quantities, whole bean or ground, and your purchasing cycle or frequency.
Just remember, your customers know good coffee these days and will return if you provide what they want.