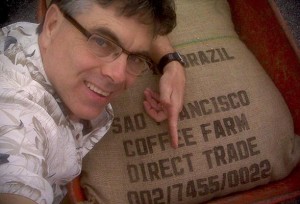 In 2009 we began cultivating Direct Trade (also known as Relationship Coffee) connections with farming communities around the world through local importers.  Most of these we found worked with a single area or community.
Since that time we have purchased Direct Trade coffees from Papua New Guinea and Brazil.  We are also looking at additional sources for Direct Trade coffees from Africa and Sumatra.
Our Brazil Direct Trade coffee is from the Alta Mogiana (ahl-tah mo-hiana) region of Brazil.  It has a very pleasant aroma in the shop when ground, many people telling us is smells like Reeses Peanut Butter Cups when they come in.
We look forward to adding more and more so that more and more of our dollars go directly to the community to sustain the workers, farmers and pickers!
Want to try some?  Here is a link to our store page to do just that!  Enjoy.